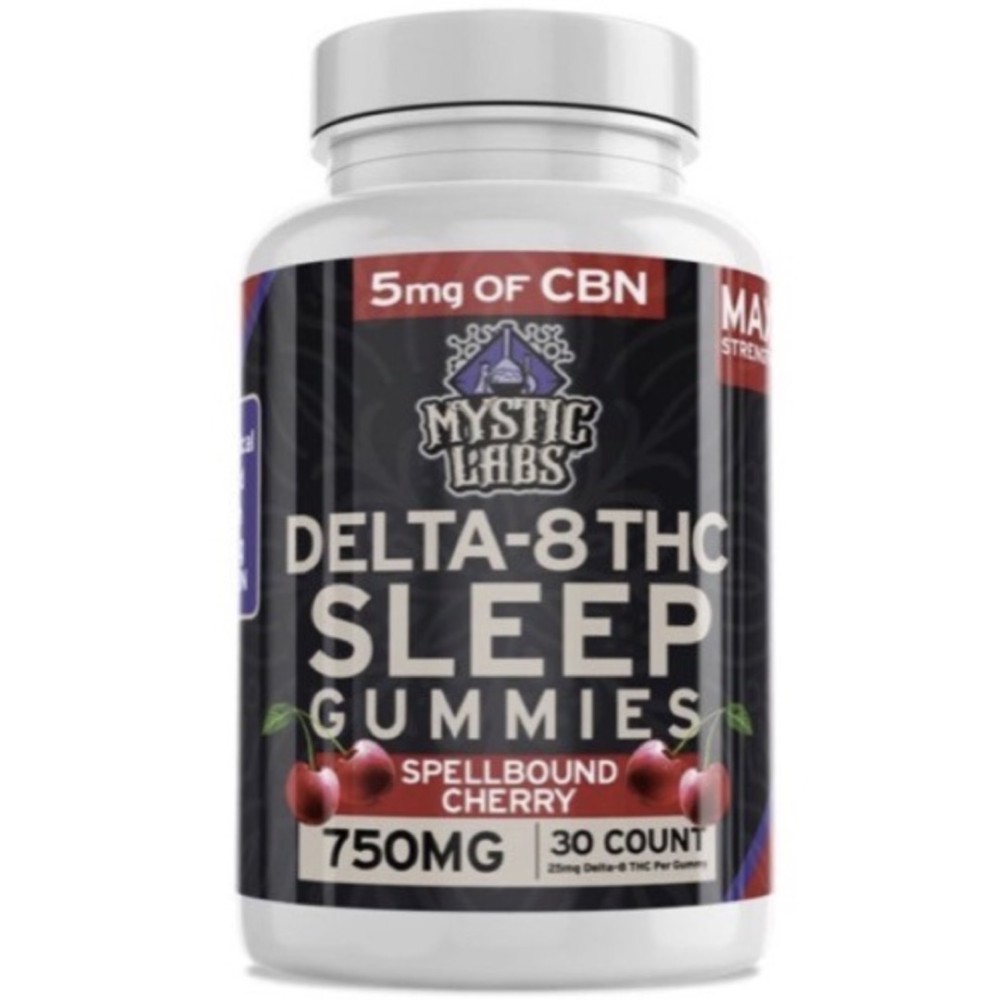  
Mystic Labs Delta 8 Sleep Gummies 750mg 30ct Jar
25mg of Delta 8 per gummy
Botanical blend with 5mg of CBN per gummy
30 gummies per bottle
750mg of Delta 8 per bottle
Derived from premium Industrial Hemp
Delicious Spellbound Cherry flavor
Tested by Independent Labs
Made in America
Security policy
(edit with the Customer Reassurance module)
Delivery policy
(edit with the Customer Reassurance module)
Return policy
(edit with the Customer Reassurance module)
Customers who bought this product also bought:
Each piece has 10mg of Delta 9 THC.
1 box is a 5pks - 100mg per bag.
Legal In State of Minnesota.
6 great flavors to try.
25mg of Delta-8 per gummy
12 gummies per bag
300mg of Delta-8 per bag
Derived from premium Industrial Hemp
Tested by Independent Labs
Made in the USA
Warnings:<0.3% Delta-9 THC Cannabinoid use while pregnant or breastfeeding may be harmful. Must be 21 years or older to purchase or use. Use responsibly. Do not drive or operate any machinery while using this product. Do not take more than the amount recommended by your doctor. Delta 9 THC may affect blood pressure, heart rate, and/or intraocular pressure in some people. If you have any known or unknown heart, blood pressure, eye, eye pressure, or similar/related issues, do not use this product unless recommended by a doctor. This product is derived from hemp and may contain THC which could result in the consumer failing a drug test for marijuana. Consult a physician before using this product.
1500mn
50mg each gummy
30 count jar
Torch GLOW Disposable contains a potent cannabinoid blend of THC-X, THC-P & THC-B. This blend is like no other cannabinoid blend out on the market. Each Torch Glow disposable comes with a blended terpene profile that is custom from Torch. These disposables are crafted using the latest innovative hardware technology featuring a pre-heat function capability and a USB-C charging port. Inside each Torch Glow Disposable is a built in ceramic coil designed for thick distillate, to prevent clogging, and to provide the best user experience possible. This product is in compliance with section 10113 of 2018 Farm Bill and contains <.3% delta-9 thc.